Every season finish since I began this blog, I've nominated a player of the season. Normally it's a tough choice, this year it wasn't. There was a standout foreigner and standout local. This was clear from the moment I started asking for votes, and is so obvious there's really no point in any speculation.
When there are clear POTY award winners at a club, its normally for one of two reasons. Either the club's had a terrible year and one player outshone the slackers (Junhinio at Middlesborough, Pearce at Forest, etc.) or the whole squad have excelled but someone just had the little extra. In a season where we went undefeated in the league, it almost goes without saying that our whole squad have been superb this year.
So without further ado, the
2012 MTU Blog Foreign Player of the Year is
....
"Super' Mario Djurvoski
When Mario signed for Muangthong I was - like most MTU fans, probably - hoping he'd fall into the category of "Foreigner who occasionally does things most Thai players can't". Instead, he took expectations of foreign players in to a whole new level. At times, Super Mario (I swear, the stadium announcer only started using that nickname after he read my blog) has turned in performances that would not look out of place in a game between EPL teams outside the big five. His footwork, vision and set piece ability have turned the tide on numerous occasions but what's equally fun to watch is the sheer enjoyment this player has of Thailand and its football. Since day one, he's loved it. Some of the attacking midfielder's gamesmanship - like Christian before him - might irk away fans, but it would irk them far less if he didn't have such ability to go with it.
So congratulations to Mario and with rumours of a record-length contract in he works, we should be able to look forward to more time with him. But can the same be said of the
2012 MTU Blog Thai Player of the Year.
........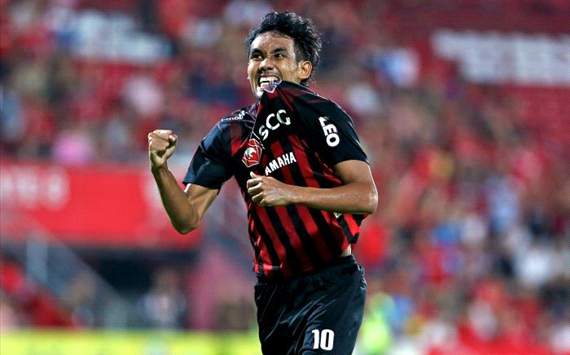 Teerasil Dangda
"One Man team" was a jeer that Southampton fans had to accept throughout the career of Mathew Le Tissier, but if Thai fans knew hat chant, I suspect it would sometimes be directed at The Quilins when we have an off day. Obviously, a title-winning team is never going to be dominated by just one figure but it seems to be so often the case that a below-par performance, a tired looking set of players or simply a bit of bad luck is resolved by a moment of class from Thailand's best striker. Indeed, it's such a regular occurrence that I struggle to think of a single, clear-cut example. Cup games, home games against sides set out for a draw, big occasions, you name it, he'as popped up with a goal in the second half. He's a well-rounded player, too. Good first touch, excellent dribbling, capable if not spectacular in the air, reads the game well, good at build up play, hard-working. There's no obvious weak point to his game. He is, simply, class. Rumours have been swirling around him for a while and it seems very likely Teerasil will move to a bigger league soon. If so, we can only wish him all the best and be grateful that we saw him play at his peak for so long.
And so we can look towards a new season, an ever more-difficult title defence and old heroes returning and, surely, new ones arriving. Thank you to everyone who voted in the MTU Blog awards this year.
Image credits: soccersee.com (Mario) , goal.com (Teerasil)