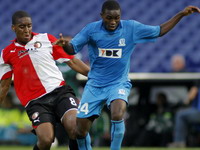 Yaya in action against Feyenord (u.goal.com)
The video below features a great strike by Yaya against Belgian opposition. Since then things have become almost surreal with Yaya as he became a goalscoring hero in Ghent's Europa win over Dutch heavyweights Feyenord.Fan Erwin described it as "
The best night of my life, Yaya is a god.We are now top of the Belgian league, the time of humilation is over!"
I've heard it said many times that good players in Thailand look good only because they are big fish in a small pond. Yaya is proving that is not always true.